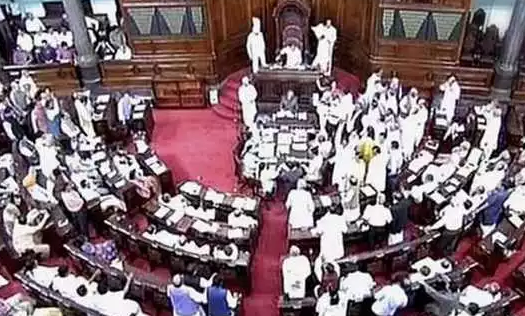 On Tuesday, a New Delhi court asked Congress Party President Sonia Gandhi and vice president Rahul Gandhi to appear before it in a case alleging a scam of over Rs 1,500 cr involving the assets of the now defunct National Herald newspaper.
An appeal filed by the Gandhis against the order in the Delhi High Court was also turned down.
In response, the Congress Party has been blocking the Parliament since, and caught in the protests is the Goods and Services Tax Bill or GST Bill, arguably the biggest economic reform bill in over two decades.
The GST Bill is supposed to be a big boost to ease of doing business in India and all kinds of merchants will benefit from the passage of the bill, which does away with the current state sales regime. The sales tax regime under different state governments is one of the biggest and most cumbersome impediment to cross country trade in India.
All commodities of trade have to be stopped at check points along state borders, their papers and stock examined and taxes paid. A lorry that travels from Punjab to Kerala ends up spending more time waiting at check posts than actually travelling, because of the current system.
The GST will replace it with a centrally coordinated system in which a central agency will collect the GST and pass it along to the state government where that item is consumed.
India, known across the world for having one of the highest levels of corruption and bureaucratic inference, could see its economic growth perk up by 1-2% per year by the passage of the bill, which has been in the works for years. And it needs to be passed in the current session of the Parliament if it has to be implemented next year.
The Patiala House Courts judge, meanwhile, has thrown all the calculations into disarray.
The Congress Party wants the government to intervene and somehow quash the court order and is blocking all business in the Parliament alleging 'vendetta' against the its two leaders. The government, on the other hand, has said that it does not have the power to direct a judge to withdraw an order, and the person who has made the complaint — Subramanian Swamy — is unlikely to withdraw his complaint either.
BJP and government leaders have urged the Congress Party to stop blocking Parliament and let the courts decide on the merits of the case.
[socialpoll id="2315104″]