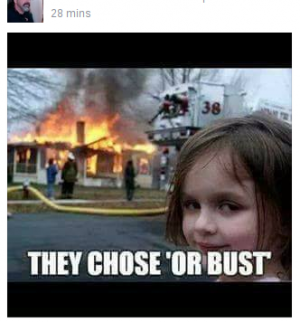 Even as many Bernie Sanders' supporters expressed disappointment, and even alarm, at the election of Donald J Trump as the next president of the USA, at least some of them felt vindicated by the results of the election.
Sanders, a senator from Vermont, ran on a left-of-center, idealistic platform opposing the 'establishment' and nearly took the Democratic Party nomination.
However, with both Hillary Clinton and Sanders having to depend on party insiders to clinch the nomination, Clinton's insider connections within the Party ensured that she managed to win the support of most of the Party's 'super delegates'.
This was despite some polls showing that Hillary is unlikely to be able to beat an anti-establishment candidate like Trump, while a similar anti-establishment figure like Sanders is more likely to be able to.
"Not gonna lie," said Andria White in the Facebook group Bernie Believers. "It's kind of nice watching all the Hillary supporters crying as they leave her headquarters rally…vengeance."
The fight between supporters of the senator and those of Clinton was in many ways more acrimonious than that between Trump supporters and Clinton supporters.
Another member of the same Facebook group, Alisha Holland, remembered the old days after results confirmed that the Republican Party had won.
"I know how awful this sounds. But watching all her supporters leave the event in tears…I can't help but to remember her supporters in Philly.
"Wearing their suits on the train as we got on. Covered in mud, sweat, tears. They would smugly look down at us. Laugh at us. Fight with us. We stood in the field crying.
"I'm sorry that I don't feel sorry. WE saw this coming and tried everything we could to stop it. WE knew your tears were inevitable. I don't feel bad for you."
"It should have been Bernie Sanders winning blue states against Donald Trump tonight as the 2016 presidential election unfolds. Democrats would not be in this situation tonight of very possibly loosing to the Trump camp," said Stephen Restelli on the 'Bernie Sanders Supporters' Facebook group.
"All Americans wanted a change from the status quo and quid pro quo same old, same old BS coming from Washington. Bernie was the peoples choice for such a change, not another Obama surrogate, and not Donald Trump. But Trump picked up on this need."
"The DNC should not have meddled and manipulated Sanders out of being the most popular candidate with the best ideas for leading the Democratic Party to a victory in 2016," he added, in sentiments echoed widely on similar Sanders' support groups.
Another member David Krout said he voted for the third option of Jill Stein due to "Democratic party insiders betraying their own party and Bernie Sanders."
"I didn't want a Trump presidency, but I also believe corruption shouldn't be allowed to continue either… Bernie could have won this. They didn't want him to."
"Democratic Establishment that ran Bernie out and paid no mind to Bernie Voters and their voters," said Andy Carlton. "You are learning a hard lesson this evening. You picked the wrong candidate and we knew it."