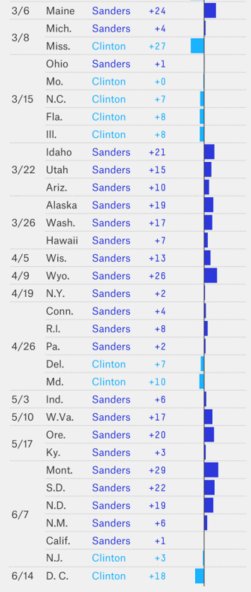 Bernie Sanders and his Republican compatriot Donald Trump have one thing in common – loads of passionate, dedicated supporters who have made themselves heard on social media.
But with the Democratic race continuing to favor Hillary Clinton, how much longer can Bernie Sanders supporters continue to keep the spirits up? Are they giving up yet?
Going by social media reactions, the supporters of the senator are holding on for one last time, hoping to win all the Democratic Presidential Primaries that are scheduled for the next 40 days.
If that sounds ambitious, it could be because you're not familiar with the schedule for the Democratic presidential primaries and caucuses.
With today's results, Clinton has widened her lead over Sanders from about 260 pledged delegates to nearly 330, with over 1000 pledged delegates in her kitty. If she can get another 1,000 pledged candidates, she'll clinch the Democratic Presidential nomination.
According to Sanders' supporters, Clinton has more or less run out of her supporting states by now. Clinton continued to sweep the states with strong non-white populations, the latest being Florida where she won 122 delegates vs 60 for Sanders.
However, even some states seen as Sanders country, such as Ohio, saw gains for Clinton. Here she won 56.4% of the votes vs 42.8% with Sanders.
"He did better than expected in NC luckily, polls were accurate in FL, very disappointed she won OH by the margin she did, disappointed he's about to lose MO and IL," wrote supporter Joshua Kepler on Facebook. "He's doing much better than polls a week ago showed, but the momentum will have been stopped after that Michigan win. We can't win by any small margins the rest of the primary."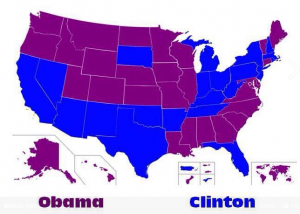 The next 12 states to go to polls — Idaho, Utah, Arizona, Alaska, Washington, Hawaii, Wisconsin, Wyoming, New York, Connecticut, Pennsylvania and Rhode Island, are all states with stronger prospects for Sanders.
It should be remembered that the blueprint prepared by Sanders' campaign included a win in Ohio today, which has now been upset.
However, that is not deterring supporters like Alan Sanders, a Congressman from Florida, who is calling the upcoming polls 'Presidential Primary 2.0'.
In a letter, he split the primaries into the 'first phase' and the 'second phase'.
According to him, the first Democratic presidential primary runs from Feb. 1 to March 15.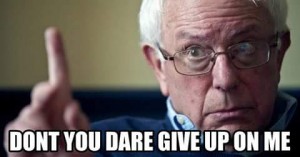 "All 11 "Old South" states vote in that primary. We have two states left to go, but Hillary Clinton has won every one of the other nine, by an average of 43 points. Outside those "Old South" states, 12 other states also have voted. Bernie Sanders has won nine of those races, Hillary Clinton has won only two, and there has been one tie (Iowa). The average result in those 12 states has been a Sanders win by just under 20 points," he said.
Things could change radically in the second phase that starts about now and stretches all the way to June 7.
"It includes none of the "Old South" states, because they all will have already voted. It includes all of the Pacific states, and all of the "Mountain" states except Colorado and Nevada (which already voted)," he said.
The biggest prizes are California (545 delegates), New York (291) and Pennsylvania (210), he points out.
"Democratic presidential primary 2.0 elects a total of 2033 pledged delegates. If Bernie Sanders wins those races (and delegates) by the same 60-40 margin that he has amassed in primaries and caucuses outside the "Old South" to date, then that will give him an advantage of 407 pledged delegates. That is more — far more — than the current Clinton margin of 223."
The Congressman is echoing the hope that Sanders' supporters are holding on to. But on a realistic level, the level of discomfort has risen perceptibly after the euphoria of Michigan win last week.
[socialpoll id="2342479″]