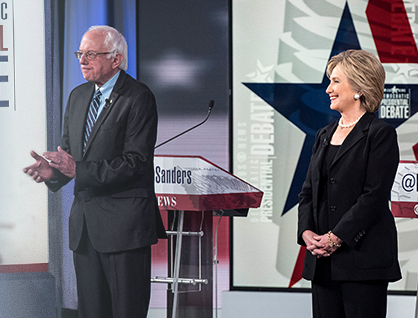 Largely along expected lines, Hillary Clinton drove home her advantage on Super Tuesday US Presidential Primary voting today.
With Alaska yet to report, Clinton had a clear advantage as most of the results came in. She picked up 509 delegates today, versus 335 for Bernie Sanders, excluding Alaska.
In terms of states, the Secretary of State held a clear edge in 6 out of the 11 states that saw Democratic Primary elections today, including the big one – Texas. Alaska too is going Clinton's way, going by the initial trends.
Sanders edged out Clinton in four states, with one — Massachusets — going largely even with Hillary picking up 45 and Sanders getting 43 delegates.
Delegate counts are important because they are the ones who ultimately decide who will be the Democratic Party's candidate for US Presidential Elections this year.
One needs 2,383 delegates for winning the Democratic Party's nomination.
Clinton clearly had an edge going into the polls because of the support of the Party's elite 'Super Delegates' who are free to support whoever they want.
There are a total of 712 such super delegates, and it is estimated that over 90% support Hillary Clinton now.
Including Super Delegates, Clinton is expected to have the support of around 900, while Sanders has close to 300. However, super delegates can change their position in case the ordinary members of party decide to support Sanders in the primaries. However, in case of a close match, Hillary hold the edge due to the support of party insiders.
All said though, it was not a 'very bad' day for Sanders either, as some of his supporters pointed out online.
Clinton was expected to dominate the results today because of the large number of southern states going to the polls as well as her image as an Obama administration insider. The African American community is more strongly represented in the southern states and have largely supported Clinton over Sanders, who is seen as someone who was critical of Barack Obama, the first US president from the Black community.
Bernie supporters, meanwhile, are hoping for better results in upcoming primaries for various reasons.
"The only reason he didn't do that well in the last few states is because its the south. Those states honestly do no matter much in the general election. Bernie wrecked her in the swing states which matter come general election. There is a reason why in the national polls Bernie is beating out every republican candidate left in the race," said Samuel Sanchez, a Facebook user.
"Hillary is barely beating trump by one or 3 points and is loosing to Cruz… Bernie has won over 3/4s of the people from ages 18-29 and we want a real progressive unlike the older voters.
"After today the states that actually favor Bernie start today. He is also gaining the Latino vote if I may add. People who are already calling the democratic side over need to hold the ***k up because this race is not over yet."
Meanwhile, on the Republican side, Donald Trump had a good day, ending with 274 delegates — nearly double the tally for Ted Cruz, his closest competitor. On Tuesday, he won 8 out of 11 states. Alaska is evenly poised between Cruz and Trump.
[socialpoll id="2338125″]
| | | |
| --- | --- | --- |
|   | Clinton | Sanders |
| Texas | 144 | 73 |
| Tennessee | 42 | 22 |
| Virginia | 61 | 32 |
| Massachusetts | 46 | 45 |
| Georgia | 72 | 28 |
| Arkansas | 22 | 10 |
| Alabama | 44 | 9 |
| Alaska | | |
| Minnesota | 29 | 46 |
| Vermont | 0 | 16 |
| Oklahoma | 21 | 16 |
| Colorado | 28 | 38 |
| TOTAL | 509 | 335 |