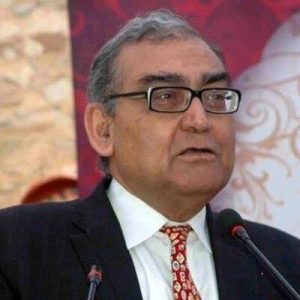 Former Supreme Court Chief Justice Markandeya Katju mocked liberals and called the current commiserations for Kashmiri Pandits meaningless, given that nobody 'raised a finger' when the community was forced to leave the Kashmir valley in the 90s.
"Your condemning atrocities on Kashmiri Pandits now is useless," Katju asked in a Facebook post. "Why did you & your ilk not speak out in 1989 to 1999 when Kashmiri Pandits were regularly and selectively being killed in the valley, and hounded out from there," asked Katju, born in a Kashmiri Pandit family.
Katju, who is known for speaking his mind without caring for political correctness, was reacting to latest news that the few thousand Kashmiri Pandits, or KPs as they are known in Delhi, are starting to leave the valley in the wake of law and order problems in the valley.
The valley has seen a surge in violence since the killing of armed separatist Burhan Wani on July 8 by security forces.
Katju, who also regularly criticizes religious fundamentalists in his Facebook posts, today chose to turn his criticism on the so-called Liberals.
"Kashmiri Muslims, and their supporters like Arundhati Roy, Umar Khalid & other students of JNU, etc cry hoarse over atrocities on Kashmiri Muslims and Palestinians, but why did they not raise their voices when atrocities were committed on Kashmiri Pandits? Are KPs insects & worms, and not humans," he asked.
"Is secularism a one way traffic ? Should atrocities on Muslims alone be condemned, but not atrocities against Hindus in Kashmir, Pakistan, Bangladesh, etc? Sorry Arundhati Roy and Umar Khalid, this wont do. Secularism has to be a two way traffic," he said.
Katju is not the first person to criticize 'Hindu Liberals' of having selective vision, and seeing only atrocities on minorities, while ignoring other forms of persecution.
It is estimated that there were around 1.4 lakh Pandits in the Kashmir valley in the late 80s. Over the next decade, that number fell to about 20,000. Their number in Kashmir is estimated at around 3,000 at present.
The Manmohan Singh Government had introduced a rehabilitation package for Pandits in 2008, but was able to attract only a few thousand to return.
Most Kashmiri Pandits today live in Delhi and other North Indian states, and portray themselves as victims of Muslim persecution in India.
Many of them are supporters of the ruling Bharatiya Janata Party, and expect to be able to return to their ancestral homeland under government protection.
Many Kashmiri Pandits — including Motilal Nehru and Katju's own ancestors — emigrated from the valley well before the violence of the late 80s.